Guide Future Inspection & Asset Management Strategies
Is the documentation for your pressure vessels, piping, and all other equipment current and up to date? Without proper documentation, your facility may be at risk of costly operational health and safety non-compliance fines.
The fastest and most cost-effective way to achieve regulatory compliance for equipment lacking documentation is a suitability-for-service (SFS) assessment. E2G will help you proactively meet jurisdictional compliance by developing protocol documents with recommended process workflows, data requirements, and technical methodology and procedures for consistent documentation.
E2G's detailed SFS assessment will guide future strategies for inspection and asset management. Our SFS team will help you:
Establish process workflows, define data requirements, and establish technical methodology and procedures for consistent documentation of assets
Proactively meet OSHA/jurisdictional compliance, improve business continuity, and guide future FFS assessments and risk-based inspection programs
What is Suitability-for-Service (SFS)?
SFS includes inspection and engineering assessments to help facilities obtain jurisdictional compliance for fixed equipment with missing documentation. An SFS evaluation will validate equipment design and provide documentation of baseline thickness inspection to support future monitoring of the equipment mechanical integrity.  Without fulfilling these steps, you cannot effectively manage your equipment.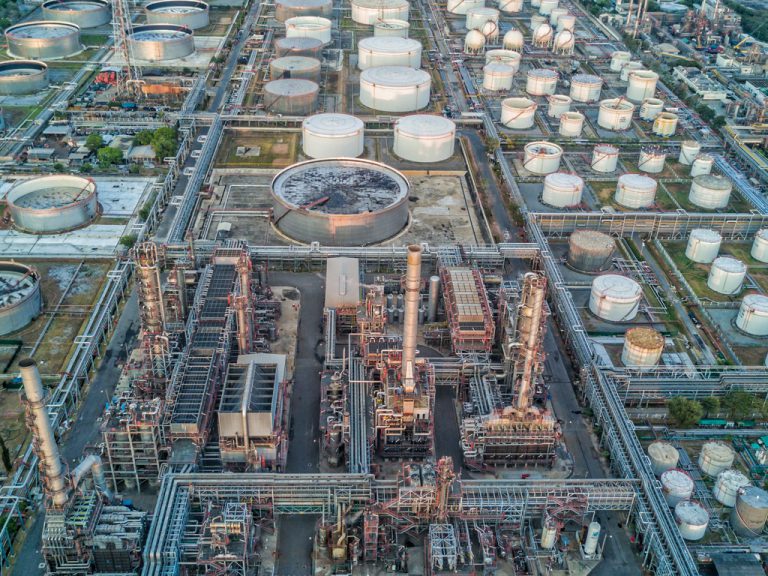 Both SFS and fitness-for-service (FFS) assessments are applicable throughout an asset's lifecycle — E2G recommends conducting proactive SFS and FFS assessments to support your facility's asset integrity management program.
SFS is the proactive review of the results of detailed remaining life evaluations, rigorous engineering evaluations, and damage mechanism reviews.
The benefits of SFS are:
Guide future strategies for inspection and asset management
Provide fundamental understanding of design codes
Reduce risk by validating data and updating documentation
FFS is used to make run, repair, or replace decisions for equipment that is found to contain flaws or damage.
The benefits of FFS are:
Extend equipment life and optimize inspection intervals and inspection tasks
Understand the effects of and potential for future damage progression
Establish screening tools to aid in non-destructive examination (NDE) and flaw sizing exercises
What Equipment Requires SFS Evaluation?
Equipment of varying complexity from small low-pressure ancillary vessels to critical high-pressure reactors across all industries should be considered for an SFS evaluation. Specifically, an SFS evaluation is required for equipment:
Lacking the OSHA-required nameplate, records, and stamping (NRS) documentation
Repaired or altered post-construction without proper NRS documentation
Built to outdated codes or standards
6-Step Assessment Workflow
Our mechanical and structural engineering team completes SFS evaluations, aligned with API 510 procedures, to provide you with the most efficient and effective way to facilitate the full lifecycle management of fixed equipment.
If your facility has lots of equipment that is missing documentation, it's recommended to conduct a large-scale SFS assessment project. You will achieve faster results, reduce inspection and engineering costs, and ensure consistent methodologies, procedures, and assumptions are applied throughout the facility.
For large-scale projects, E2G will provide a project protocol document to ensure consistency and maximize efficiency. The protocol document is crucial for successful project execution and provides guidance on:
Project roles and responsibilities (inspection, owner-operator, analysts, etc.)
Data requirements
Technical methodology
Engineering assumptions
Screening criteria for filtering equipment and applicable loading considerations
Template for consistent presentation and documentation of results
Reference materials
The process for designing and maintaining process equipment needs to meet regulatory requirements and follow established engineering practices. E
2
G's Process Technology team conducts:
Documentation reviews that assess which systems meet or fail to meet the mandatory industry codes and standards, RAGAGEP, and corporate best practices.
Revalidation and audit calculations to identify any potential systemic weaknesses or operational risks.
SagePlus software allows you to conduct Level 1 and Level 2 FFS analyses using its broad set of analysis modules that incorporate the latest API 579 codes. You will achieve safer facilities and plants by evaluating equipment design and in-service conditions to make informed engineering decisions on the life of fixed equipment, piping, and structures.
Suitability-for-Service Expertise
Our mechanical and structural engineering team has completed thousands of SFS evaluations, giving us the experience and capability to provide the most cost-effective solution. Our team combines their extensive experience with state-of-the-art technology to help extend the lifecycle of your existing assets and create safe operating environments.
Our experts:
Have 200+ years of combined field experience
Pioneered development of FFS
Are the primary authors on WRC 528 and WRC 562
Serve as lead investigators on API 579 and API 571
Provide emergency onsite support within 24 hours